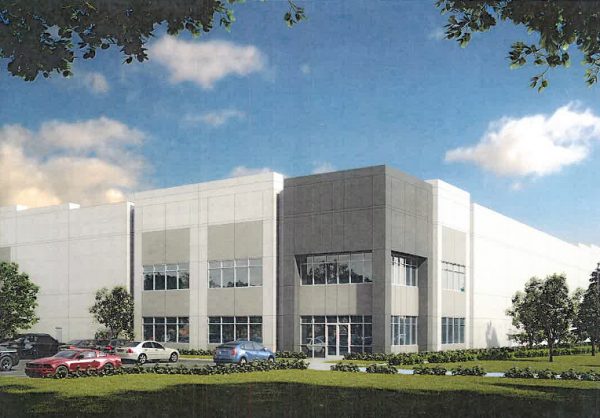 140,000-SQUARE-FOOT BUILDING: The county has given the go-ahead to owner/developer CapRock Partners to construct an industrial building on Knabe Road similar to this artist's rendering.
An almost 140,000-square-foot industrial building is soon to be built on the northwest corner of Knabe Road and Bedford Motorway. The project was approved earlier this month at a Riverside County Planning Director's hearing.
Because the zoning classification of the property is Industrial Park, owner/developer CapRock Partners was not seeking a zone change, only approval of what it plans to build.
The county in 2004 approved seven industrial buildings and a self-storage facility at the same location, but the recession halted the project. About three years ago, 184 apartments were proposed for the site, but the project was withdrawn when the We Are Temescal Valley Development Committee objected to the proposal. The committee also opposed a later proposal to put condominiums on the 9.21-acre site.
Although the building's future tenant is unknown at this time, CapRock estimates the development will create from 50 to 90 jobs and reduce the number of daily truck trips by 24 percent as compared to the project that was approved 13 years ago.
Trucks only will enter and exit the project by a driveway from Knabe Road to be built at the north end of the property. Employees will use Bedford Motorway. Restriping is planned for Knabe Road to facilitate this project, as well as the Riverside Medical Clinic project proposed for the southwest corner of Knabe Road and Retreat Parkway.
The 42- to 46-foot tall building, which will face Knabe Road, will have a minimum 47-foot setback, and 35 percent of the property will be heavily landscaped, especially in front of the building.
Five Temescal Valley residents attended the hearing with a list of recommendations that included using earth-toned colors on the building and placing a traffic signal at Bedford Motorway. The county rejected the recommendations as unnecessary.