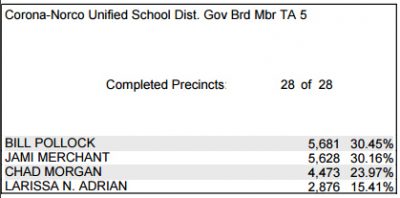 In a very close race, Bill Pollock has been declared the winner for the Corona-Norco Unified School District Trustee Area 5 seat.
After the Nov. 8 election, Pollock led candidate Jami Merchant by 230 votes with 261,500 ballots yet to be counted. The vote tally was updated nine times and at one point Pollock only led Merchant by 34 votes. The final certified vote was released by the county Registrar's Office Dec. 6 showing Pollock the winner by 53 votes.
This was the first election that board members were chosen by district instead of at-large. Trustee Area 5 includes all of Temescal Valley within the CNUSD boundaries and a portion of Corona. Both Pollock and Merchant reside in Corona. Chad Morgan and Larissa Adrian are Temescal Valley residents. Chances of having a Temescal Valley representative elected to the board were lessened with two valley residents on the ballot.
Pollock said he's looking forward to working with Temescal Valley residents – many who have been outspoken about the need for a high school here, the traffic situation in getting their students to school and the alleged lack of representation for Temescal Valley by the district.